Products
We are very excited about our new Wellness Store! Eat Well: cookbooks, vitamins, supplements, and CD's to assist you to healthier nutrition. Move Well: balls, bands, and home exercise equipment. Think Well: books and CD's to assist in improving your attitude on a daily basis.
Please contact the clinic directly for information regarding ordering or come in and visit our Wellness Store. We will be happy to assist you!
---
Foot Levelers
We offer custom made orthotics from Foot Levelers at our Chiropractic Office in Las Vegas, NV.
The whole process begins with a quick digital scan of your bare feet. The scan is then assessed for potential problem areas found in any of the three arches of your feet. If a problem is found, we simply send your scanned results to Foot Levelers and they immediately begin making your custom fit orthotics.
The orthotics come with a 100% satisfaction guarantee, and cost significantly less than those from a podiatrist or celebrity endorsed shoe store.
Is the source of your pain rooted in the foundation of your feet? Imbalances in your feet may cause foot pain, knee pain, hip pain, low back pain, plantar fascitis or many other conditions.
These orthotics come in a variety of styles to fit your specific shoe and activity level. They are comfortable, and quality crafted to last.
Call us today to schedule your 3D digital foot spinal screening exam consultation to determine if you have a foot problem.
---
Multi Radiance Laser Therapy
Multi Radiance Medical Super Pulsed Laser Therapy is an FDA cleared modality that allows you to manage and eliminate pain without the use of drugs or invasive surgery. The FDA states "...Lasers are indicated for the temporary relief of minor muscle and joint pain, arthritis and muscle spasm, relieving stiffness, promoting relaxation of muscle tissue, and to temporarily increase local blood circulation where heat is indicated.
To learn more about Multi Radiance Medical Super Pulsed Laser Therapy, click here.
---
Ion Detox Foot Spa
Everyone holds toxins in their body at some point in their lives. This is associated with Positively Charged Ions. All the bad "STUFF" that promotes disease (Bacteria, Parasites, etc.) are Positively Charged Ions. In the Ion Detox Foot Spa the water sets up a negatively enhanced charge using the water and your body to complete the conductive cycle. The water and your body, via the fluid systems, then become negatively charged.
With both water and your body as part of the conductive cycle, your body and its fluid systems are an unwelcome environment for the toxins. During your detox foot spa session, your systems can more efficiently do their work, especially the Lymphatic System, to carry bacteria and toxins out of the skin and into the Foot Spa water toward the Ion Detox Module.
---
BioMat
BioMat products provide great benefits to absolutely anyone. Whether you need to release stress, detoxify your body or you have health issues, simply lying on the BioMat promotes a feeling of well-being for a healthier mind and body.
---
Metagenics
Metagenics was founded in 1983 on a brave new scientific concept: how the right nutrition could help people realize their best health possible by influencing what makes them unique—their genes. Back then we called it "genetic potential through nutrition." It also makes us unique—it's been our mission and a key differentiator ever since.

Today, this ever-growing and respected field of science is known as nutrigenomics. And it has been practiced for nearly 30 years by forward-thinking providers who utilize our industry-leading products and programs to help people live healthier, happier lives.
Now healthcare organizations worldwide recommend "lifestyle medicine" to improve health with basic nutrigenomic tenets: healthier eating and regular exercise. But we hold the key to making lifestyle medicine programs more effective, as well as more expedient with targeted nutritional support.
Our research-based medical foods, nutraceuticals, and turnkey programs help address each patient's unique health needs for a higher level of personalized, lifetime wellness care. That's why so many healthcare providers worldwide trust Metagenics over any other professional brand.
Click here to be redirected to learn more!
---
Essential Oils
"Love the way the spritz of fragrance from a fresh orange peel can brighten up your day? Each essential oil's complex, pleasant, and unique scent activates the limbic system - The brains center of emotion and memory - differently. Essential oils can be your key to a more fulfilling and balanced emotional life."
---
Posture Pumps
The Posture Pump Answer to Disc Damage , Pain, Stiffness and Headaches.
---
Cervical Pillows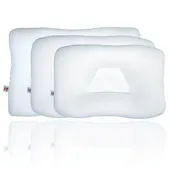 Are you sleeping on the right pillow? Sleep better.. awaken more refreshed!
---
Bioposture Mattress